Iron is one of the most useful and important gadgets for our daily household use. This one gadget is pretty much used for the purpose of keeping your clothes in the proper crease as well as give proper maintenance to them. In other words, we can say that this efficient appliance gives you a crisp and neat wardrobe. So, welcome to the blog and here you can see the best Iron for clothes in India.
Finding the best dry iron amongst a variety of choices is quite much difficult, especially when a range of choices are available. There are a lot of best brands for dry iron are available in the market. So get your perfect pick by reviewing our latest picks of the dry iron box from all the well-known brands. We have compiled the list on the basis of their specifications, price and here we filter out the best options. Have a quick look at our best-picked models.
5 Most Selling Dry Iron in India 2019
1. Philips HI114 1000-Watt Dry Iron Box
If you are looking for an affordable and modern looking iron box, this one will be a great choice. Get better quality and better experience with this Philips Dry iron that is very efficient to use. This high-performance iron box is very light weighted and is ideal for all your daily pressing needs.
This dry iron from Philips is equipped with the Button Groove feature that lets you reach into the tricky area of your clothes and also makes ironing easier around the buttons and seams. The Golden American Heritage Soleplate ensures easy movement on all types of fabrics.
Key Features
Sleek and lightweight
Golden American Heritage Soleplate for easy gliding
Button Groove feature
Intelligent temperature control
Price – 896 /-
2. Bajaj DX 7 1000-Watt Dry Iron
This dry iron box from Bajaj is one of the economical options with a trendy look and neat features. This one is very handy, portable, and lightweight dry iron that gives you quick ironing sessions. It comes with a non-stick coated golden color soleplate that prevents the fabrics from sticking to the iron due to overheating. Also, its comfortable hand grip gives you relaxed ironing experience.
This dry iron is also equipped with double indicator system that ensures additional safety and convenience. The very best part of this dry iron is that it comes with multiple temperature setting options so that you can customize your ironing according to the fabric type.
Key Features
Nonstick coated soleplate
Double Indicator System
Adjustable Temperature knob
Safety thermal use
360-degree swivel cord
Compact and lightweight
Price – 788 /-
3. Philips Diva GC83 750-Watt Dry Iron
This affordable piece of dry iron box from Philips is bound to make your clothes look neat, crisp, and well pressed. It is equipped with the most awesome features that you look for in an iron box. This dry iron comes with a linished coated soleplate that ensures smooth gliding along your clothes and the fabric does not stick to the surface of the iron.
This Philips iron box is also equipped with Built-in temperature control that lets you change the temperature for different fabrics as required. One of the most awesome features of this iron is its low power consumption technology that ensures the ironing job is done without consuming much more electricity. Its uniform heating panel ensures better coverage of the fabric and a more uniform finish to your clothes.
Key Features
Linished coated soleplate
Built-in temperature control
Multiple temperature settings
Compact and lightweight
Energy efficient
Price – 896 /-
4. Morphy Richards Inspira 1000-Watt Dry Iron
This dry iron box from Morphy Richards is a perfect combination of all the features you seek from your regular iron including durability, dependability, versatility, and convenience coming straight from a trusted brand. This lightweight iron is big on performance and gives effective crease removal from all your fabrics.
It comes with a non-stick coated soleplate that is easy to clean and allows a smooth gliding effect over all types of fabrics. This iron box also features a power indicator that tells you when the power is on.
Key Features
Nonstick coated soleplate
Adjustable thermostatic control
360-degree swivel cord
Sharp Beak
Power Indicator
Price – 830 /-
5. Havells Era 1000-Watt Dry Iron Box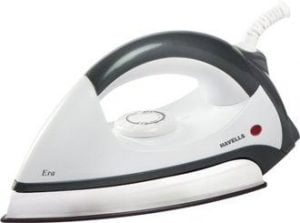 This new and unique Havells Era Dry iron box is the perfect one all that you need for catering the wide ironing requirements at your home. Its American heritage coated soleplate makes the use of iron very easy and even without any worry of fabric sticking to the iron. This iron box has also been installed with thermostat control that helps to iron the clothes accordingly.
It comes with an indicator light and temperature control for ease of use. Its comfortable grip makes you iron your clothes very conveniently for a long period of time. This dry iron is made up of high-quality PVC that gives it strength and a long life without much maintenance.
Key Features
American heritage nonstick coated soleplate
Temperature control dial for various fabrics
360-degree swivel cord
Easy-grip fabric selector knob
Indicator light
Price – 675 /-
Conclusion
This is all about the best and most selling dry iron in India with all their specifications. Being a good buyer, it is always great to go through the consumer choice, and their trust about the product, which is we try to put in the blog. So, I hope now you are pretty clear about your choice for the best iron box.